Attractions of Ao Luk
Than Bokkhorani National Park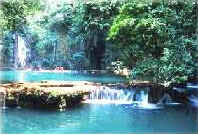 is situated 45 kms from downtown Krabi. Travel along Phetchakasem Road to the crossroads of Amphoe Ao Luk Turn left to Hightway No.4039, and travel a further 1.5 kms to the national park office. The park covers and area of 121 sq.m. consisting of limestone mountains, mangrove forests and islands.
Among the interesting tourist attractions are:

Than Bokkhorani
is made of several natural streams flowing down to basins of different sizes and at different levels, creating many small waterfalls. The water is emerald green reflecting the cool, green forest.

Tham Lod Nua and Tham Lod Tai
can be reached by taking the Au Luk-Laem Sak route for about two kms. Then take a right turn to the Bo Tho pier then transfer to a rented boat along the Ta Prang canal. About ten minutes after passing a mangrove swamp will be the Tham Lod Tai, which is a cave beneath a limestone hill with a stream flowing through narrow passages. The main attractions are beautiful stalactites and stalagmites. The Tham Load Nua is a large cavern with meandering passages longer than at the Tham Lod Tai. They are navigable only during low tide.

Tham Phi Hua To or Tham Hua Kalok
is located in amphoe Ao Luk on Phi Hua To Mountains, which are surrounded by mangrove swamps. The cave is accessible by the same route as Tham Lot Tai with its entrance not far beyond the canal to Tham Lot Tai. The mouth of the cave is some 6-7 meters above ground level. From the entrance, the cave divides into 2 routes, the left one leading to a vast chamber pierced by a shaft of light, while the right route leads to a hall believed by archaeologists to have been once a shelter for prehistoric people. Rock paintings can be seen within the cave. The paintings, 70 of them, are painted in red and black and portray people as well as animals. The cave was named Phi Hua To or Big-headed Ghost owing to the unusually large skulls discovered there. All have since disappeared. A large pile of shells were also found in the cave.

Tham Phet

is 3 kms from the intersection at Ao Luk Nua market. In front is enshrined an image of Buddha. The name of this cave "Phet" means "diamond", and indeed sparkling stone casts beautiful reflections on the cave walls. The best way to get there is to first contact the National Park Office at Tharn Boke Korani for guide. Be sure to bring along a flashlight




Ko Garose

is on the east end of Laem Sak. There are colored drawings of both mend and animals in the vicinity of Ao Hin Bai.




Ko Hong

is an island located on the edge of the national park. The easiest way to reach the island is to hire a boat from Ao Phra Nang. The trip takes about an hour. This limestone island has a beach and coral reefs in both deep and shallow water levels.

Tham Chao Le

is a beautiful cave on the west side of Laem Sak. Inside, there are stalacites and stalagmites as well as prehistoric cave paintings of people, animals, and various geometrical shapes.